Memorial Park – Coming soon
January 1 @ 9:00 am

-

12:00 pm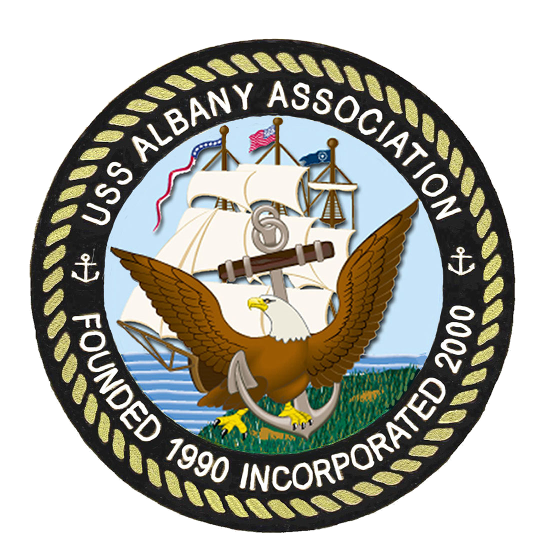 The USS Albany Heritage Exhibit
Currently the USS Albany Association Heritage Exhibit committee is working on the restoration of the CA-123/CG-10
Bow section and preparing it for installation in a new memorial park.
The proposed new park will be located along the riverfront at the Corning Preserve in downtown Albany, New York
and viewable by all visitors and citizens 24/7
The Heritage Exhibit committee is accepting donations of Contractor Services or Financial assistance for this major project.
All supporters will be recognized in the Association quarterly newsletter and a letter of
appreciation for donations will be sent to all supporters for tax purposes.
"The USS Albany Association, Inc. is a 501(c) (19) non-profit organization, with its primary purpose of providing educational value on the rich history of all USS Albany's from 1846 to our present namesake, USS Albany SSN-753."
Proposed drawing of the new memorial park:
To enhance our fund raising efforts & your financial support, we have partnered with James McGrew Cabinetmakers to provide various attractive items relative to our USS Albany Heritage.
Supporters will receive one of these as a token of our appreciation:
Wood Assiduity Plaque
Wood Plaque is 9 x 11 with the Assiduity seal & the inscription "Still Making History" & Memoerial Park Beenefactor
Plaque Offerings
Choice of Translucent Plaque
Translucent LED Lighted Plaque with hardwood base 6.75 x 11, with an engraving of either the CA 123, CG 10 or SSN-753 vessel outline or the Assiduity Seal all with the inscription "Still Making History" & Memorial Park Benefactor

Large Corporate/ Organization contributions will be offered a special translucent Plaque
Plaque Offerings
Each item includes shipping, handling, and a letter of appreciation for tax purposes.
For program verification you may contact the Albany County Convention and Visitor Bureau.
Contact is Kathy Quandt, Director of Operations @ 518-434-1217
or the Exhibit chairman Wayne Van Amburgh @ ussalbany@capital.net or by phone 518-732-4202
Supporters can send their valued gift of support to:
USS Albany Association Heritage Exhibit
PO Box 515
Rensselaer, New York 12144