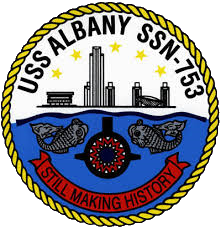 The Fifth Albany SSN-753
Nuclear Powered Attack Submarine
"Still Making History"
The Albany was launched on 13 June 1987 and commissioned April 7, 1990. She incorporated the latest in state-of-the-art combat systems, vertical launch tubes and Arctic ice breakthrough capability.
The fifth and present Albany is a Los Angeles Class Attack Submarine numbered SSN-753. Her keel was laid down 22 April 1985 and built by Newport News Shipbuilding and Drydock Co., Newport News, VA. Sponsored by Mrs. Nancy Kissinger, she was launched on 13 June 1987 and commissioned on 7 April 1990. She incorporated the latest in state-of-the-art combat systems, vertical launch tubes and Arctic ice breakthrough capability. Her displacement is 6,080 tons surfaced and 6,927 tons submerged, 110.3 meters long, 10.1 meters wide and 9.9 meters high. She's nuclear powered by one GE PWR S6G with two turbines. The turbines provide 35,000 HP to her single shaft. There is a Magnetek auxiliary prop motor of 325 HP. Her speed is 32 knots submerged. The Albany has a complement of 13 officers and 121 enlisted.
Ship Characteristics
| | |
| --- | --- |
| LAUNCHED | 13 JUNE 1987 |
| COMMISSIONED | 7 APRIL 1990 |
| DISPLACEMENT | 6,900 TONS |
| LENGTH | 365 FT |
| BEAM | 33 FT |
| MAXIMUM DEPTH | 400 FT PLUS |
| SPEED | 20 KNOTS PLUS |
| CREW | 13 OFFICERS – 121 ENLISTED |
1990 – Commissioning of the USS Albany SSN-753
The Albany was commissioned on 7 April 1990 at Pier 23, Norfolk Naval Station. She was the 18th Los Angeles Class submarine built by Newport News Shipbuilding.  Representative Michael
McNulty, D-NY was the main speaker for the ceremony which started at 11:00a.m.  Mrs. Henry Kissinger was the sponsor for the 43rd nuclear powered submarine.  Three former Commanding Officers attended the commissioning; Radm. Ben B. Pickett, Capt. Robert G. Merritt, and Capt. Robert C. Peniston.  After ceremonial speeches from Mrs. Kissinger and Rep. McNulty, the crew manned the ship and the Albany slid down the incline. Albany was the last submarine to slide down the incline of greased wooden shipways at Newport News Shipbuilding. Submarines are now assembled using modular construction. Commanded by Cmdr. Darl R. Anderson, the Albany was assigned to Submarine Squadron 8 in Norfolk.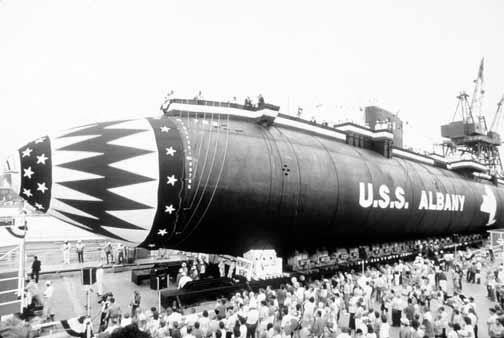 In addition to marking the end of an era, Albany's commissioning marked the beginning of an advanced design of the 688 Class Attack submarine. Improvements over previous ships included retractable bow planes, arctic ice break-through capability, vertical launch tubes for the Tomahawk cruise missile, and the AN/BSY-1 Submarine Advanced Combat System.
Nuclear powered submarines use the best of advanced technology to achieve the attributes of stealth, endurance and freedom from logistics support, and firepower.  This combination of attributes is not duplicated in any other platform. Submarines are a vital part of the Navy's "Forward From the Sea" doctrine, bringing to bear proven shallow water operational capabilities including mine warfare, covert coastal surveillance and intelligence gathering, operations with special forces, and combat search and rescue. Further, the submarine's ability to strike targets at, below and beyond the water's surface makes it a potent asset in the nation's arsenal.
1991 – Albany Completes Sea Trials and Joins Sub Squadron Six 
USS Albany SSN-753 successfully completed a post sea-trial availability at Newport News Shipbuilding and Drydock Company. She then proceeded to Norfolk where she was transferred from Submarine Squadron EIGHT and became the first Los Angeles class submarine in Submarine Squadron SIX.
Albany then began to establish herself both as an outstanding warship and ambassador of goodwill.
She successfully completed all assigned exercises and became the centerpiece of the USS Albany Memorial Association reunion at Cocoa Beach, Florida. The crew of Albany greatly impressed the surviving members of past ships bearing the name Albany. In fact, so impressed were they that they changed the name of their association to the USS Albany Association to include members of the submarine Albany as well. Albany also hosted several VIP luncheons and dinners in Norfolk area always leaving visitors impressed with both the professionalism of the crew, and the quality of the meals.
On 8 November, Commander Daryl R. Anderson was relieved by Commander William F. Murphy in ceremonies held in Norfolk. Under Commander Murphy, Albany continued to live up to her motto, "Still Making History." In short, all equipment and weapons systems aboard Albany performed well and all operations performed by Albany were successfully completed.
1994 – 1996 Cmdr. Kevin P. Ryan, Commanding Officer of the Albany 
ALBANY successfully completed an overseas deployment which began in November 1993. She received the Submarine Group Two Silver Anchor Award and the Submarine Squadron Six Deck "D" for 1993. Albany also received the Meritorious Unit Commendation for her first overseas deployment in 1992.
Prior to the start of the Selected Restricted Availability (SRA) at Newport News Shipyard, CDR Kevin P. Ryan relieved CDR W. F. Murphy as Commanding Officer. The purpose of SRA was to upgrade systems and conduct major repairs to the ship. During the SRA, the major additions to Albany were the installation of dihedrals and CSA MK-2 6″ launchers. Throughout the year,
Albany successfully completed all operational commitments. Albany successfully passed an inspection by the Board of Inspection and Survey.
1997 – Mediterranean Sea and Persian Gulf Deployment 
The Albany started off the year making preparations for a Mediterranean Sea and Persian Gulf deployment in support of the USS John F Kennedy Battlegroup. After completion of a drydock period in the USS RESOLUTE, the ship participated in COMPTUEX Phase II to become proficient in all associated support missions for the Battlegroup Commander. During ceremonies held pier-side on 21 February 1997, CDR Brian O'Neill relieved CDR Kevin Ryan as commanding officer of the Albany.
The ship soon got underway for JTFEX which involved final certification for the ship's role as a member of the JFK Battlegroup. After a dependents cruise on 23 April, the ship completed Sea Trials and was underway on 29 April for an Atlantic Ocean transit to the Mediterranean Sea. Albany conducted INCHOP, a briefing liaison, to Commander, Sixth Fleet on 10 May. After a brief port call in Gibraltar, the ship transited to La Maddalena, Sardinia and moored alongside the USS Simon Lake.
After other port calls in Toulon, France and Palma, Spain, the ship participated in SHAREM 121 from 23-30 June. SHAREM 121 was an undersea warfare exercise involving numerous NATO ships and aircraft. After SHAREM 121, Albany anchored at Corfu, Greece for liberty. Following the Corfum port call, Albany returned to sea to conduct a VIP cruise for several Italian dignitaries off La Maddalena, Sardinia. On 15 July, the ship mourned the loss of a shipmate ET3 Matthew Davis. He was transferred to USS Simon Lake AS-33 early in the morning but died of heart failure due to a previously unknown defect.
The ship completed a transit to the eastern Mediterranean Sea and a five day port call in Haifa, Israel. On 15 August, Albany hosted all serving Israeli submarine commanding officers during a day-long VIP cruise. After de-barking the riders, the ship arrived off Port Said, Egypt to embark RADM Grossenbacher in preparation for a transit through the Suez Canal. 17 August saw the first ever trip of the Albany through the Suez Canal. The ship INCHOPPED to Commander, Fifth Fleet and was an important Tomahawk strike capable asset while conducting operations in the Persian Gulf. The ship visited Mina Sulman, Bahrain from 28 August 28 to 6 September where she hosted Vadm. Fargo, the Fifth Fleet Commander. Albany returned to the Mediterranean Sea via the Suez Canal on 25 September.
After a three day stop-over in Limassol, Cyprus, the ship made passage to Souda Bay, Crete for a personnel transfer and thence to La Maddalena, Sardinia for a final upkeep before the end of the deployment. The ship hosted ADM Reasons, Commander Atlantic Fleet for a televised VIP tour while in La Maddalena. Albany steamed through the Strait of Gibraltar on 13 October, and completed training and engineering plant preparations throughout a crossing of the Atlantic Ocean. After a personnel transfer at Bermuda to embark the Nuclear Propulsion Examining Board, the ship conducted an Operational Reactor Safeguards Examination and returned home to Norfolk on 28 October. The ship steamed over 34,000 miles during its deployment and visited eight different ports of call. After a post-deployment stand down and entry into the drydock USS RESOLUTE, the ship commenced a Selected Restricted Availability (SRA) conducted by the Norfolk Naval Shipyard on 1 December. Albany completed a dual media discharge and began replacement of both the propulsion shaft and sonar dome.
1998 – Midshipmen Cruise and Pre-Deployment Maintenance and Exercises
The Albany started off the year in the Drydock Resolute during Selective Restrictive Availability
(SRA) 2-1 conducted by the Norfolk Naval Shipyard. After two and a half months in the drydock, extensive repairs were completed on the ship including shaft, propeller and sonar dome replacements. Following SRA, the ship conducted Sea Trials in the Virginia Cape OPAREAs and returned to a fully operational status.
USS Albany SSN 753 on station in the Atlantic
In March, the ship proceeded to Port Canaveral, Florida for crew liberty including a ship's picnic and a VIP orientation cruise for French Admiral Nerzic (chief of the French Military Mission at SACLANT). A short transit took the ship to the Atlantic Undersea Test and Evaluation Center (AUTEC) in the Bahamian Tongue of the Ocean. Engineers from Naval Surface Warfare Center, Carderock Detachment boarded Albany for the conduct of Acoustic Trials. After a brief stop home in Norfolk, the ship returned to AUTEC for a series of operations including ORANGE force support for a Tactical Readiness Evaluation and a MK 48 ADCAP Torpedo Proficiency Certification. While operating in the Tongue of the Ocean, the ship conducted exercises under British Navy OPCON using Royal Navy water space management rules.
A return to home port led to the conduct of a SPRUCE while moored in Norfolk. The ship was particularly successful in utilizing the new SPRUCE barge and its newly installed powder coating equipment. On 27 April, Albany got underway for transit to Roosevelt Roads, Puerto Rico to embark the first of two groups of Submarine Prospective Commanding Officers (PC01) including the PC0 Instructor Commander Lotring. Two weeks were spent on the Atlantic Fleet Weapons Test Facility (AFWTF) Range during the conduct of PC0 Operations. Exercises included periscope approaches on ORANGE surface warships, sonar approaches on ORANGE force SSNs, and special warfare operations using Navy SEALS. During the conduct of PC0 Operations, Albany successfully launched and recovered twenty-four exercise ADCAP torpedoes during a wide variety of tactical encounters.
After the completion of operations in the Puerto Rican OPAREAs, the ship returned to Norfolk for an upkeep conducted by the Intermediate Maintenance Activity onboard USS Emory S Land AS-39. The rest of the summer was spent performing several weekly operations including CORTRAMID,
ELLTPSE ALFA, and Pre-overseas Movement Support as ORANGE Force SSN. During
CORTRAMID, the ship hosted 45 midshipmen from a variety of colleges and universities across the country. At least half of these individuals voiced a strong interest in a possible career in the submarine force after riding Albany. Also of note, ELLIPSE ALFA was a U.S. Atlantic Command sponsored exercise.
Albany commenced its own Pre-overseas Movement preparations and received various installations in support of the upcoming six month North Atlantic deployment. The ship transited to Groton, Connecticut for two weeks of Pre-deployment Training provided by Submarine School. While in Groton, the ship replaced the battery. This was necessary because a shift in the upcoming deployment from late April to early February 1999. The crew was given the opportunity to put theory into practice during two weeks of Basic At Sea Scenarios. 
The end of the year saw the Albany finish a second POM (Program Objective Memorandum) Upkeep followed by Sea Trials and a holiday stand-down. The crew finished last minute preparations for an anticipated deployment date in February 1999.
2000 – Albany deployed on another Mediterranean mission
The Albany deployed to the Mediterranean for six months in 1999.   After returning from deployment, CDR Paul "Chip" Jaenichen relieved CDR Brian O'Neill as Commanding Officer of the Albany in a Change of Command ceremony on 10 September 1999.  The Albany was again deployed to the Mediterranean on 26 June 2000.  
In an article in The Seabreeze, CDR Jaenichen recounted, "Since our arrival, the crew and ship have certainly set the standard.  In every exercise and real world operation, with both NATO and US Navy units, Albany has been singled out for our tactical performance and excellence in all areas.  We have been involved in both engagement and presence, making port visits to Gibraltar; Toulon, France; La Spezia, Italy; La Maddalena, Sardinia; and Souda Bay, Greece.  In each port, the crew conducted itself with dignity and diplomacy as we hosted numerous tours of the ship and amazed our allies with the capabilities of both the ship and her personnel.  We have conducted two one-day cruises for distinguished visitors from Italy which received accolades from Commander Submarine Group Eight,
Rear Admiral Munns, and Commander Sixth Fleet, Vice Admiral Murphy as well as hosting the Governor and Commander in Chief of Gibraltar, Mr. David Durie, and the retired French Navy Chief of Naval Operations, Admiral Gerard Gachot, to receptions onboard the ship."
 2001 – USS Albany crew visits Albany, New York
Commander 'Chip' Jaenichen and members of his crew  visited Albany, NY on 7 March 2001 for a three day visit.  The members of the Albany were greeted by members of the USS Albany Association.  After checking-in to the hotel, the crew paid a visit to the Mayor of Albany where they were welcomed to the city and exchanged gifts.  The crew then toured the Albany Heritage Exhibit.  On 8 March, a reception was held for the Captain and his crew, members of the Albany Association, and city dignitaries.  The next day included tours of the Navy's Nuclear Power Training Facilities at Ballston Spa, NY, the Knolls Atomic Power Laboratories, and a visit to the Iroquois Middle School to honor Ms. Carol LaRow and her students.  The students wrote letters and sent cookies to the crew of the Albany.
2002 – Albany Undergoes Major Overhaul and a Change of Command
The Albany was nearing completion of a 13-month Depot Modernization Period at Norfolk Naval Shipyard.  The ship rests on keel blocks in dry-dock while the shipyard conducts major hull repairs and preservation.  With a 15 May undocking date in sight, the crew was aggressively preparing to have the ship waterborne once again.  In the next couple of months, every member of the crew will have to be re-qualified on their respective watch stations.  From new Sonar and Fire Control systems to upgraded propulsion plant control and instrumentation, Albany will return to operation as the most high tech submarine in the world.
Cmdr. Brett J. Genoble relieved Cmdr. Paul "Chip" Jaenichen as Commanding Officer of the Albany at ceremonies conducted on June 14.  The ceremony was held at Hospital Point in Portsmouth, Virginia overlooking the Elizabeth River with USS Wisconsin and the Nauticus Museum in the background.  It was a stirring farewell and tribute to Cmdr. Chip Jaenichen and his wife Paula and their family.  "Cmdr. Jaenichen was a superb Commanding Officer and is a great friend and Naval Officer", said Cmdr. Genoble. "We wish him all the best in his new assignment as a senior member of the Nuclear Propulsion Examining Board."
The anniversary of 11 September found the crew in the midst of work-up inspections.  The crew dutifully mustered at 0530 to prepare for drills and at 0745, Cmdr. Genoble had the opportunity to address the crew over the 1MC circuit.  At the end of the address, the crew, who were dispersed throughout the ship, stood as one and recited the pledge of allegiance.  Shortly after 0846, when the crew secured from a fire drill, a moment of silence was observed. The flag was flown at half-mast and a special Jack, the "First Jack" was flown aboard the Albany.  The First Jack has a red and white striped background, a rattlesnake, and the words "Don't Tread on Me" as a display of our defiance against those who would cause us to live in fear.  The Albany will continue to fly the First Jack as long as the war on terrorism continues.
2003 – Albany Prepares for Deployment
Albany is operational once again. Sea trials were conducted last November along with a period at sea just before Christmas.  The Albany underwent INSURV inspection and weapons certification which is mandatory after shipyard periods.  By the end of March, the Albany was fully certified and ready for deployment.
During the month of September, the ship spent two weeks in Groton, Connecticut conducting training for deployment early next year.  
The families of the crew also embarked on a very ambitious project.  Working with Habitat for Humanity, the spouses raised the required funds to build a house which was donated to a family in the Southampton Roads area in Virginia.
2004 Albany deployed to the Persian Gulf and the Mediterranean
On 30 July 2004, Albany returned to Norfolk after a six-month deployment that began in the Persian Gulf and Gulf of Oman, and proceeded to the Mediterranean Sea for a NATO exercise, Operation "MEDSHARK/Majestic Eagle."
While underway, she provided support in the Persian Gulf and Gulf of Oman for more than 150 days, helping to successfully deter Al Qaeda and international terrorists. The crew then proceeded to the Mediterranean Sea to participate in a Summer Pulse '04 exercise, Operation "MedShark/Majestic Eagle." This joint maritime exercise was conducted to develop interoperability between multinational forces and address critical undersea warfare objectives in the European area of operation.
The Albany (SSN-753) breaks away from a formation of participants in a Multilateral Undersea Warfare (USW) exercise conducted in the U.S. Naval Forces Central Command/Commander Fifth Fleet area of responsibility in the Gulf of Oman, 25 Mar. 2004
2005 – Cmdr. Merrick assumes command from Cmdr. Genoble
Cmdr. Mark H. Merrick relieve d Cmdr. Brett J. Genoble as commanding officer of the Albany at Norfolk Naval Station, on 1 April 2005.  "It seems impossible that my time as commanding officer of this fine ship has quickly come to an end," Genoble said. "The opportunity to command a warship and to lead a crew of highly trained and motivated sailors is something every naval officer aspires to."
Genoble, a native of Montville, New Jersey, graduated with distinction from the U.S. Naval Academy in 1985 with a Bachelor of Science Degree in Electrical Engineering.
"I am sad but I am also proud," Genoble stated, "proud of the accomplishments of this crew. I am proud because they became a team where each member looks after each other. I am proud because I have seen new sailors become seasoned leaders.  "I am proud because this crew has embraced a culture of continuing improvement and has learned to look at themselves critically, to honestly assess and to learn from everything they do," he added.
During his 34 months in command, Genoble and the crew of Albany completed a 15-month Depot Modernization Period (DMP), participated in various exercises and operations and deployed to the Mediterranean Sea and Persian Gulf with the USS George Washington CVN 73 Carrier Strike Group. In January 2005, Albany was awarded the Commander, Submarine Squadron 6 Battle Efficiency "E" award and was nominated for the Commander, U.S. Atlantic Fleet Arleigh Burke Award for the most improved ship in the fleet. "I have never met a crew more willing to work hard, more ready to play on game day than this one," Genoble said. "It is the crew's commitment to excellence in Engineering and Operations that allows the ship to fly the Battle 'E' flag and whose dedication and patriotism resulted in Albany having the highest retention on the waterfront."
Genoble's next duty assignment is as a senior member of the Nuclear Propulsion Evaluation Board, Commander, U.S. Atlantic Fleet, in Norfolk.
2006 – Albany Supports National Security Efforts
Albany  returned home to Norfolk from a six-month deployment on 20 November 2006. Albany participated in the first mission in the Gulf of Guinea and directly supported counter-narco terrorism operations in the Caribbean.  The crew demonstrated the great flexibility of fast-attack submarines, conducting a wide range of joint requirements supporting national security, as well as multiple operations contributing directly to mission objectives for both U.S. European Command (EUCOM) and U.S. Southern Command (SOUTHCOM). She also participated in missions in the Gulf of Guinea and directly supported counter-narco terrorism operations in the Caribbean, resulting in the confiscation of more than 2.8 tons of narcotics.
2007 – Cmdr. Thad Nisbett becomes Commanding Officer
On 14 June 2007, the Albany had a new Commanding Officer.  Cmdr. Thad Nisbett assumed command from Cmdr. Mark Merrick during a. ceremony onboard the Albany in Norfolk.  Cmdr. Merrick was re-assigned to serve as the senior board member of the Tactical Readiness Examination Team on the staff of Submarine Force Commander. Cmdr. Nisbett was previously assigned to Submarine Development Squadron-12 at Groton, CT as the Sea Shield department head.  Members of the Albany Association attending the Change-of-Command ceremony included: Bob Smeltzer and Joe Zarachowicz who both served aboard the CG-10, Max Gilleland and Bob Pruitt who served aboard the CA-123, and MMCM Mark Katona, USN, ex-crewmember of the SSN-753.
In September, the Albany was in the Atlantic Ocean conducting an Expeditionary Strike Group Integration exercise (ESGINT) with the USS Nassau ESG in preparation for the upcoming deployment next year.
On 25 April 2008, Albany departed Naval Station Norfolk for a scheduled deployment.  On 10 May, she arrived in Souda Bay, Crete, for a routine port call and again on 11 June, Albany pulled into Souda Bay for a second port visit.
Albany returned to Norfolk on 18 November after a seven-month underway period in support of Maritime Security Operations (MSO). During this period, the sub also visited Augusta Bay, Italy; Marseillles, France; Haakonsvern, Norway; Jebel Ali, U.A.E. and Manama, Bahrain.
2009 – 2010
Cmdr. Thomas R. Buchanan Relieves Cmdr. Nisbett as CO
As reported by: Kevin Copeland, Commander, Submarine Force Public Affairs
Cmdr. Thomas R. Buchanan, Jr., relieved Cmdr. Thad E. Nisbett as commanding officer of the Albany during a change of command ceremony on 15 October 2009 at Naval Station Norfolk. Cmdr. Buchanan's prior assignment was as a Special Assistant to NATO's Supreme Allied Commander for Transformation, and Commander, U.S. Joint Forces Command.
"As you can imagine, this day means a tremendous amount for my family and me," said Buchanan, who became the ninth commanding officer of Albany. "It just so happens that I have the good fortune to command a ship that was launched on my birthday in 1987. I humbly stand before you to tell you that I am absolutely ready to assume command of this awesome warship, and will do everything to ensure that Albany continues to make history."
Retired Rear Adm. Michael C. Tracy was the principal speaker at the ceremony. Tracy's Norfolk ties include command of the Los Angeles-class attack submarine USS Newport News SSN-750; Submarine Squadron 8; and Carrier Strike Group 10. He also commanded Submarine Group Two and Navy Region Northeast in Groton, CT, during the 11 September terrorist attacks.
"Cmdr. Nisbett, I salute you for a job extremely well done in guiding the crew of Albany, and fighting this great warship with skill and professionalism during your tour," said Tracy. "You led your crew to consistently demonstrate both tactical and technical prowess during inspections and real world operations, as evidenced by the extended deployment with the Fifth Fleet and with the European Command."
Capt. Christopher Thomas, Commander, Submarine Squadron Six, presented Nisbett with a Meritorious Service medal during the ceremony. The medal cited Nisbett for "his superior tactical prowess, unrivaled initiative, and steadfast perseverance while leading Albany on a deployment to the European and Central Command Areas of Responsibility in support of Overseas Contingency Operations, and on four highly successful missions spanning three theaters of operation and focusing heavy on national anti-submarine warfare objectives."
"It has been a tremendous privilege to command such a fine Los Angeles Class Attack Submarine," said Nisbett, who took command of Albany, 14 June 2007. "I took over at a time when Albany had just completed much needed maintenance, and was modernized with some of the latest and greatest equipment."
"But even with all of the technological equipment that makes up a submarine, it is the crew combined with the support from outside the pier which makes Albany such a great asset to the Navy. Without my tremendous crew, Albany would be just a hunk of metal. They really are Albany, because they maintain the spirit of the ship as long as it is part of the fleet.  But the most important group that supports the crew is the families. They keep us going, and having that family stability makes the long absences we endure manageable."
CDR. Nisbett reported to the Defense Liaison Division on his next assignment.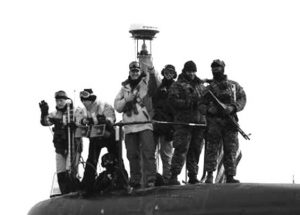 In February 2010, the Albany deployed from Norfolk and joined the 6th Fleet for six months returning to Norfolk on 11 August. Under command of Cmdr. Thomas Buchanan, Albany conducted operations in the European
Command area of responsibility, conducting Maritime Security Operations while supporting national security interests. In executing the Chief of Naval Operation's Maritime Strategy, Albany further demonstrated the submarine force's great capability in providing global presence.
 "Albany deployed to the European Command 6th Fleet, conducting patrolling operations in the Mediterranean Sea and Norwegian Sea," said Buchanan. "We spent more than 30 days above the Arctic Circle, which earned our crew members the Arctic Service Ribbon. Albany successfully completed hundreds of maintenance items and repairs over the course of the mission and maintained
100% accountability for the sensitive classified material entrusted to our care."
In addition to the many operational successes Albany experienced during the deployment, there were plenty of personnel milestones reported.  "There is nothing more rewarding than observing a young petty officer mature into being a leader of his watch team," continued Buchanan. "This deployment saw several sailors rise to the challenge of qualifying senior enlisted watch stations, dramatically increasing the depth of Albany's experience. In total, 16 first and second class petty officers qualified as diving officer of the watch, chief of the watch or engineering watch supervisor. Plus, 30 new crew members achieved a career milestone by earning their coveted Dolphins by qualifying in submarines."
During the deployment, the submarine traveled approximately 34,500 nautical miles, which is the equivalent of traveling back and forth from Norfolk to Miami 33 times. Port visits included Rota, Spain; two visits in Faslane, Scotland; two visits to Haakonsvern, Norway; and Lisbon Portugal.
"Albany engaged in several important diplomatic efforts over the course of the deployment," said Buchanan. "We hosted foreign and American dignitaries including U.S. Ambassadors to Spain and Portugal; Commander, U.S. Sixth Fleet; Commander of the Norwegian Submarine Force; and service members from several foreign navies. The tours sponsored by Albany helped spread goodwill and build mutual understanding among international militaries."
2011 – Albany is Still on Station and Continues to Make History
While the operational tempo and personnel milestones were professionally rewarding for the Albany men, they are glad to be home and ready to write the next chapter in the Albany legacy. "We are looking forward to a well-deserved stand down, and spending time with our loved ones at our favorite restaurants in Hampton Roads and at Tides ballgames. However, we will remain dedicated to continuing this deployment's success into the coming months, and we will remain focused on ensuring maximum readiness for deployments and exercises after stand down, and in the long-term on preparing the boat for its upcoming shipyard in 2011."
Commanding Officers USS Albany SSN-753

Name/Rank
Final Rank
Dates
Cmdr. Darl R Anderson
04/07/1990 – 11/18/1991
Cmdr. William F. Murphy
11/18/1991 – 05/14/1994
Cmdr. Kevin P. Ryan
05/14/1994 – 02/21/1997
Cmdr. Bryan O'Neill
02/21/1997 – 09/10/1999
Cmdr. Paul 'Chip' Jaenichen
09/10/1999 – 06/01/2002
Cmdr. Brett J. Genoble
06/01/2002 – 04/01/2005
Cmdr. Mark H. Merrick
04/01/2005 – 06/14/2007
Cmdr. Thad E. Nisbett
06/14/2007 – 10/15/2009
Cmdr. Thomas R. Buchanan
10/15/2009 -
The Submariner
Only a submariner realizes to what great extent an entire ship depends on him as an individual. To a landsman, this is not understandable and sometimes it is even difficult for us to comprehend, but it is so!
A submarine at sea is a different world in herself, and in consideration of the protracted and distant operations of the submarine, the Navy must place
responsibility and trust in the hands of those who take such ships to sea.
In each submarine there are men who, in the hour of emergency or peril at sea, can turn to each other.  These men are ultimately responsible to themselves and each other for all aspects of operation of the submarine.  They are the crew.  They are the ship.
This is perhaps the most difficult and demanding assignment in the Navy. 
There is not an instant during his tour as a submariner that he can escape the grasp of responsibility.  His privileges in view of his obligations are almost ludicrously small, nevertheless it is the spur which has given the Navy its greatest mariners – the men of the submarine service.
It is a duty, which most richly deserves the proud and time-honored title of Submariner.
Reprinted from the Commander Submarine Squadron Eleven, Change of Command Ceremony July 2010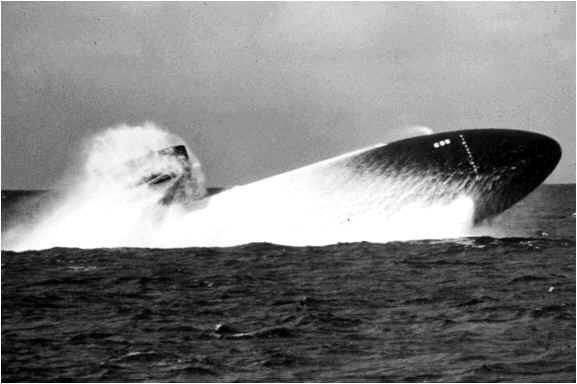 A submarine practices an emergency surface off the coast of Norfolk.
USN Official Photographs USS Albany SSN-753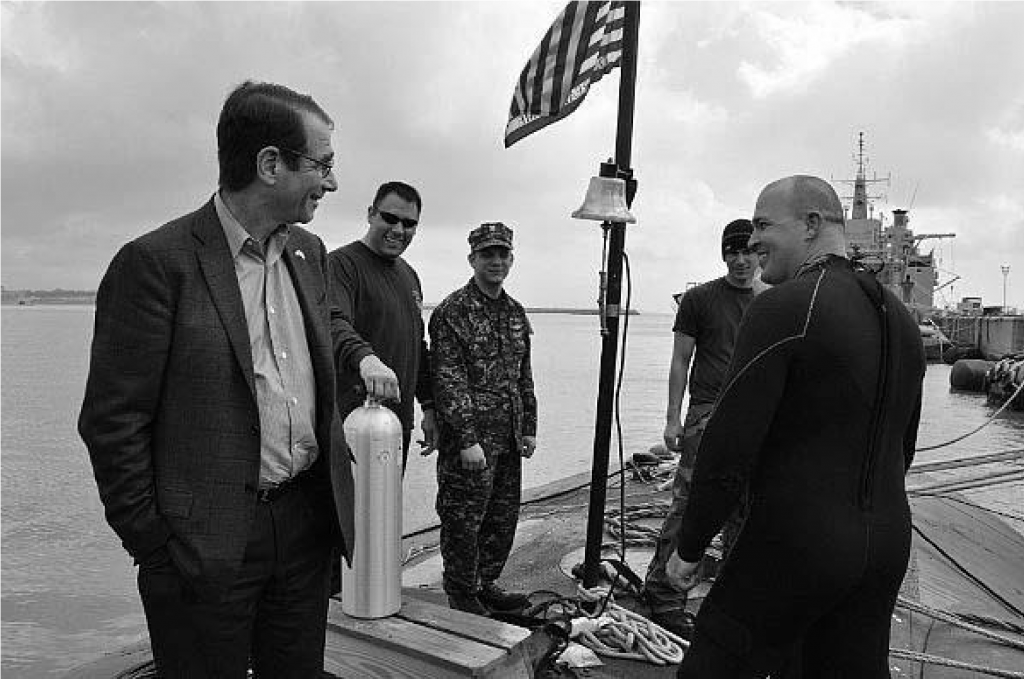 24 Feb 2010 – U.S. Ambassador to Spain and Andorra, Alan D. Solomont, talks with Sailors assigned to the Los Angeles-class attack submarine USS Albany (SSN 753) at Naval Station Rota, Spain.
USS Albany SSN-753 arrives at Souda Bay, Crete, Greece for a routine port visit on 10 May 2008
The nuclear powered attack submarine Albany (SSN-753) is escorted out of Souda Bay, Crete, Greece, on 11 Mar 2004 harbor by a security patrol boat as she gets underway following a brief port visit.
Albany was host to 30 senior enlisted leaders
Photo was taken in June 2009  by a SUBLANT photographer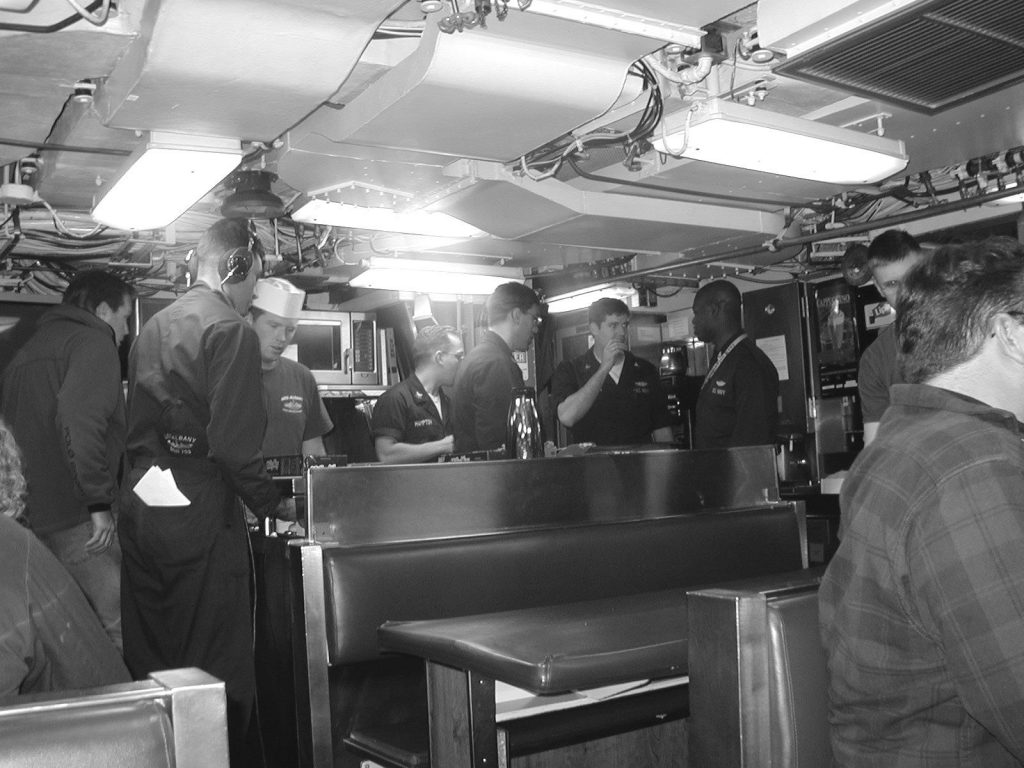 USS Albany SSN-753 Chow Time
Cmdr. Brett Genoble listens as Mrs. Wanda Waldon thanks the
USS Albany Family Association South Hampton Roads Habitat
U.S. Navy photo by Journalist 2nd Class Christina M. Shaw